Things to consider when designing your bathroom
A GUIDE TO BATHROOM STYLES
Styling your bathroom according to a look or feel can harmonise the overall aesthetic of your home. Our bathroom renovation options come with a range of styles that suit a range of tastes and budgets. Here is a guide to some of the most popular and enduring styles available with our standard, premium, and custom packages.
STANDARD STYLES – GLAMOUR ON A BUDGET
WHITE/CHARCOAL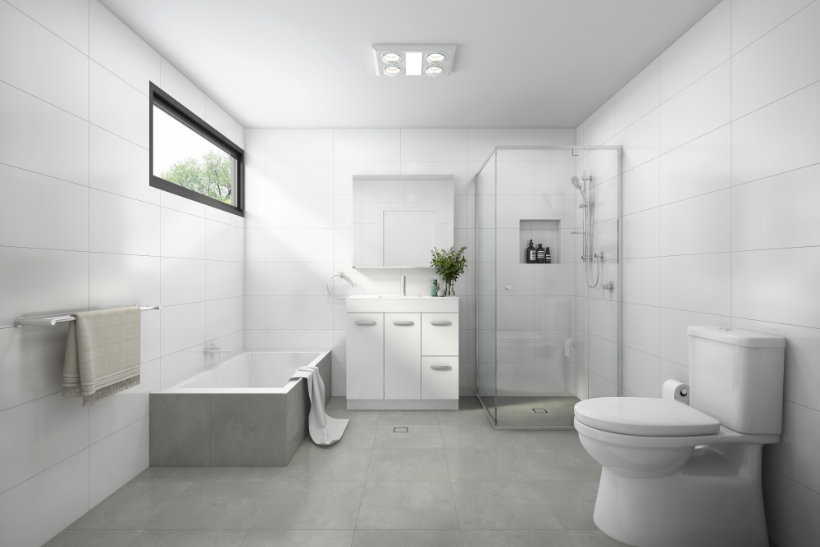 White/Charcoal is a neutral colour scheme and a cost-effective yet elegant solution. White/Charcoal adds texture and function to a bathroom, giving it an industrial chic look that pairs with almost all interior decoration styles.
WHITE / GREY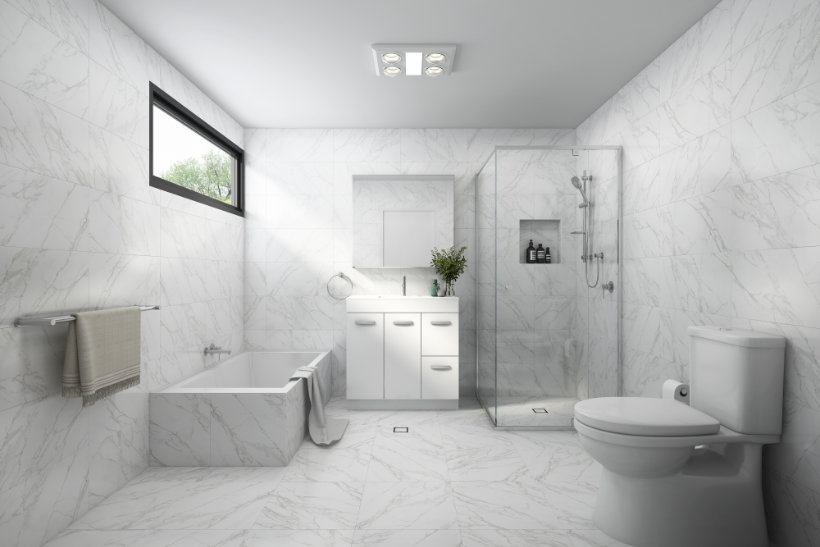 White and grey is a timeless design that also looks contemporary. A combination of white and grey is a timeless and stylish option for bathrooms of all shapes and sizes. If you favour simplicity and practicality, white and grey are perfect partners.
LIGHT GREY
Light grey straddles that happy medium that is often hard to reach in interior design; a versatile design that one can pair with virtually any other colour. Lighter shades of grey help create an atmosphere of calm – which is ideal for any bathroom that seeks to be a respite from daily life. Coordinate with brighter colours for features or a personalised aesthetic.
BEIGE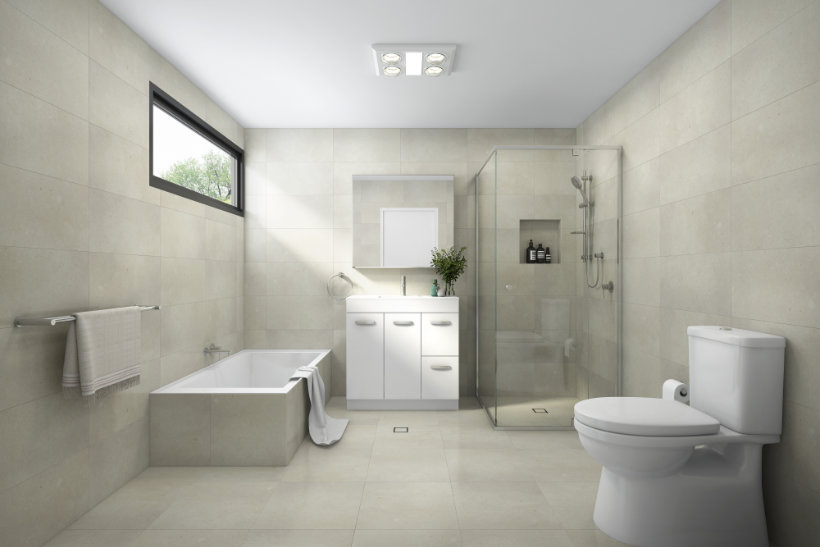 Beige is far from boring – it's a neutral tone which can inspire calm and tranquillity. Paired with warmer wooden tones, beige enhances a natural feel which can evoke the stillness of a forest or mountainside getaway. It's an understated, yet powerful shade.
PREMIUM STYLES – A RANGE OF ELEGANCE IN BATHROOM DESIGN
THE TERRAZZO LOOK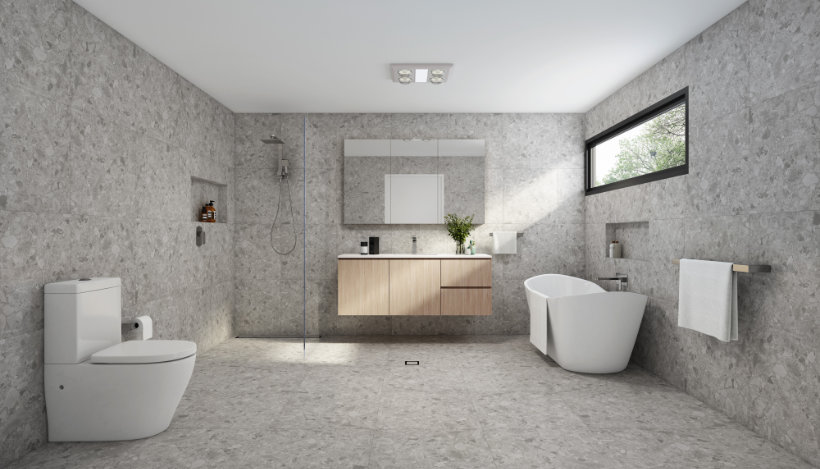 Terrazzo originates from the Italian 18th century, inspired by the mosaics of Ancient Egypt. Terrazzo involves pieces of stone or marble chips bonded into a cement bed. Terrazzo comes in many colours and finishes that suit your home styling. For an example of Terrazzo, one of the world's most famous Terrazzo walkways is the Hollywood Walk of Fame.
Terrazzo tiles can be fabricated from porcelain with an overlaid digital print, giving the appearance of "true terrazzo." Porcelain terrazzo offers enhanced scratch resistance, durability, and strength. Made-to-print Terrazzo can be customised to your taste. "True Terrazzo" is manufactured using the traditional method and comes at a higher premium. It also resembles stone in look and feel.
THE CONCRETE LOOK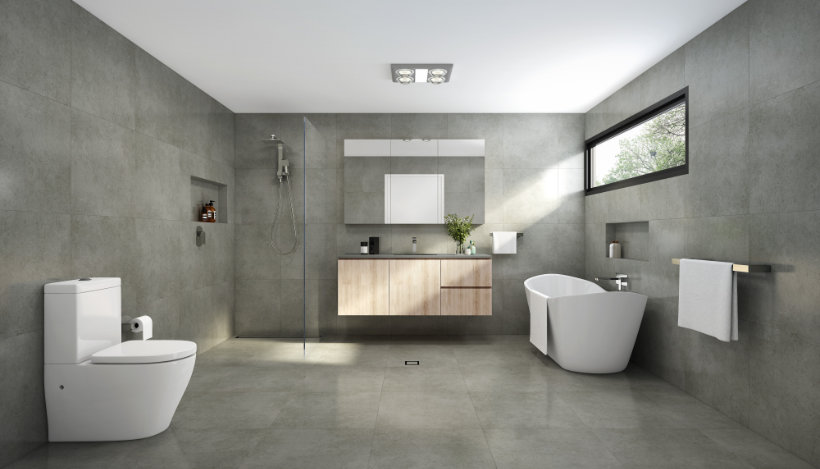 Another industrial inspired design, the concrete look is versatile, natural, sleek, and modern. Some concrete tiles include aggregate such as stones or pebbles, which gives concrete tiles a measure of relief and texture.
THE STONE LOOK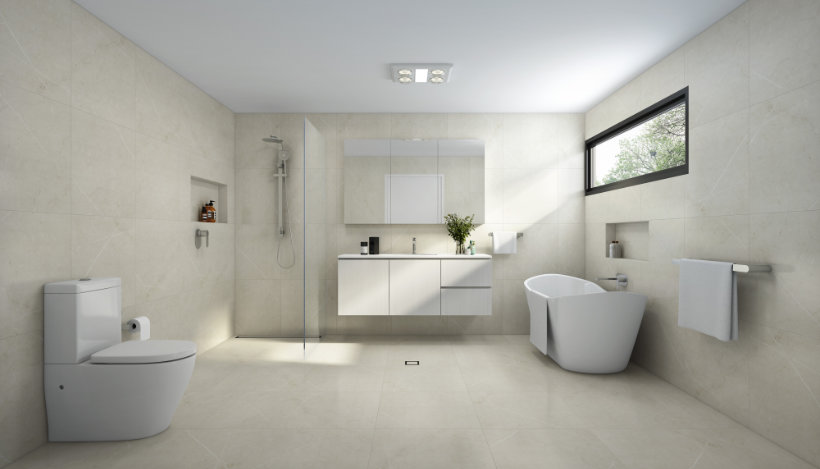 The stone look is a design choice that mimics the look of natural stone found in the world around us. It's a highly creative style, able to blend into any space. Stone look tiles are often seen in floors and walls to create a welcoming and modern look.
THE CARRARA LOOK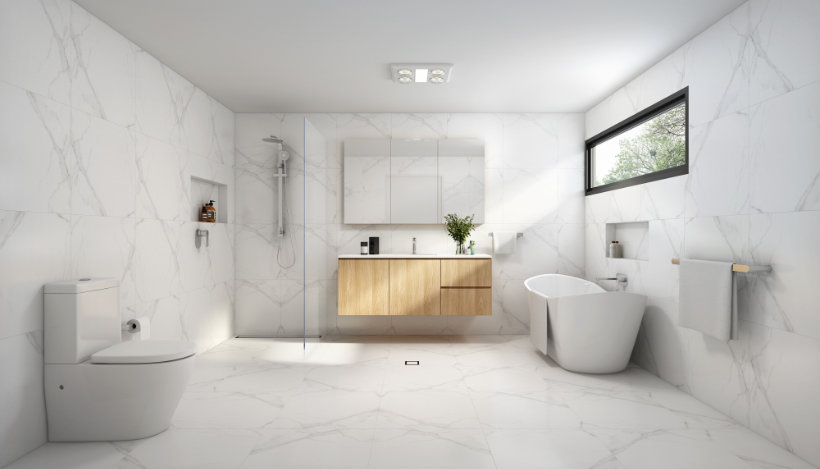 The Carrarra or Herringbone look has been used in interior design as far back as Ancient Rome. Carrara look tiles have a marbled look; white backgrounds with grey veining that can appear as subtle wisps or darker cloud like formations for a bold look. Carrara is a popular choice for interior decorators who like to play with natural stone. Though striking, Carrara tiles require more maintenance than other tiles, especially if you wish to keep them in pristine condition.
CUSTOM STYLES – A TRULY UNIQUE BATHROOM EXPERIENCE
HAMPTONS STYLE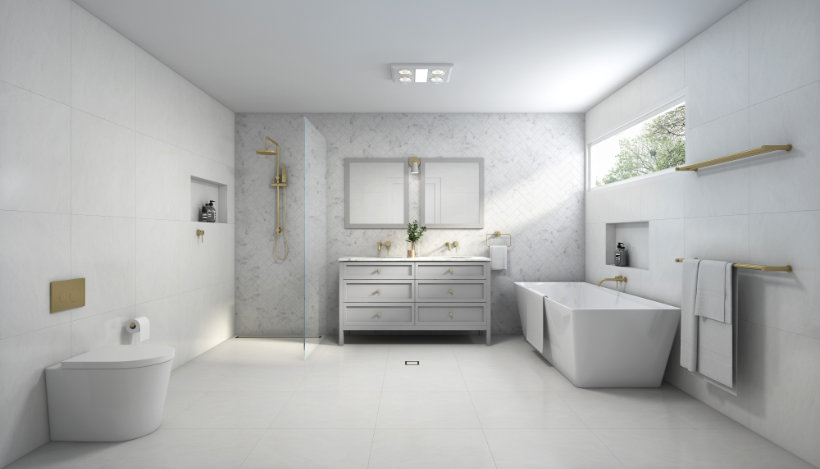 Hamptons Style originates from the idyllic villages and hamlets of Long Island, east of New York City. Hamptons Style is a uniquely American take on French interior design trends of the 18th and 19th Century – Baroque, Rococo, and Empire style. Interiors are spacious and generously proportioned and make for a special "seaside meets the countryside" vibe.
Hamptons style interiors are usually bright, light, fresh and airy that make guests and residents feel relaxed. It's a style that suits the Australian "bush meets the beach" locations, also popularised by television series such as SeaChange.
Whites, neutrals, yellow and green are all common colours to Hamptons style interiors. Designers often pair neutral colours with coastal blues, or layering various shades of blue, from navy through to baby blue.
Grey tones and pastels such as duck egg blue or mint green are typical to Hamptons style. The classic look is cream with black accents, or all black with accents of bronze and white, paired with natural materials for warmth, such as real in-laid stone floors and black timber.
COASTAL STYLE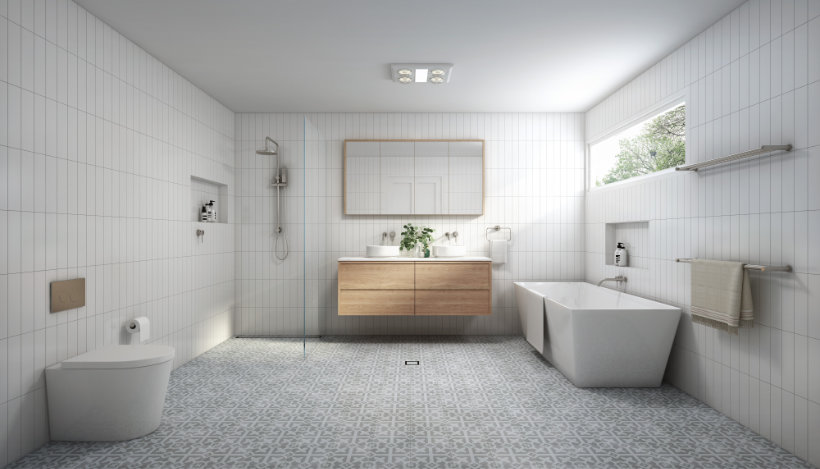 Coastal style is inspired by the beach and seaside. Though there is much variation on this theme, the basics cover:
Ample light
Natural materials
Breezy spaces
An overall casual, easy living feel.
The colours reminiscent of the seaside such as yellows, blues, and greens all meld into furniture, woven accents, and of course, bathroom tiles and paints.
Woods and other natural looking tiles or fixtures dominate coastal style. Wicker and rattan also dominate, inspired by Caribbean or Polynesian culture. The aim of coastal style is to invoke the easy and relaxing experience of the beach in your home – even if you live inland!
ARCHITECTURAL STYLE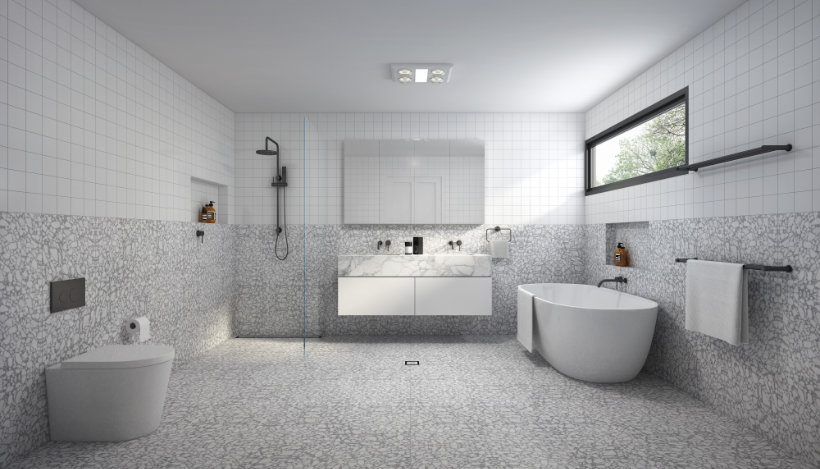 Architecture as 'the practice of the architect' refers to planning, designing and constructing form, space and ambience. It extends from urban design and master-planning to building design, the design of individual spaces and even fixtures and fittings. It also includes the pragmatic aspects of realising buildings and structures.
Interior architecture is an arm of interior design which specialises in understanding the architectural side of the space.
Architecture needs to be grounded in depth and meaning and the more coherent and relevant it is, the more successful and interesting it becomes ...the concept brings richness to the design.
BOHEMIAN STYLE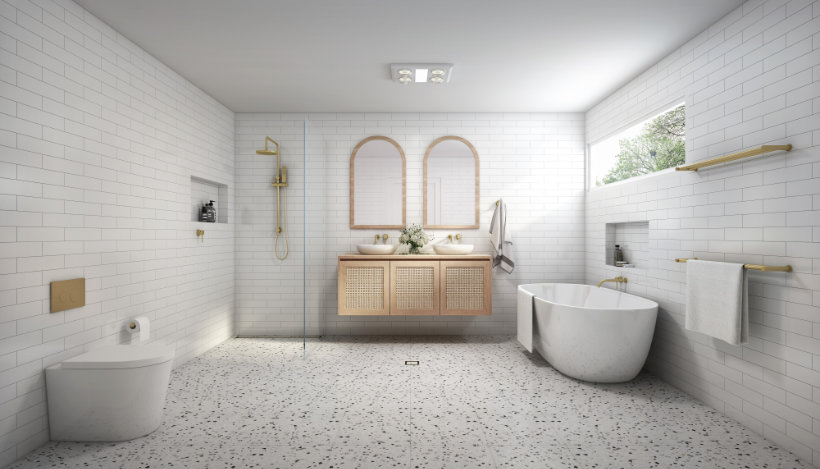 Bohemian (or 'boho') derives from the now Czech region of Bohemia. Bohemianism came to represent the 19th century "wanderers and artisans" who lived a whimsical, unconventional lifestyle. The French became enamoured by their carefree and expressionistic way of living.
Bohemian style in bathrooms feature hand painted tiles bursting with colour. Bohemianism often features eclectic styles that retain a certain sophistication. Bohemian bathrooms are all about mixing styles, colours, and patterns in an effortless way. Bohemian is all about the "DIY" approach – it doesn't have to be perfect; it just has to represent what you find appealing.
Some conventions include patterns such as blue and white tiles in the shower contrasting a solid white vanity unit. Patterned floor tiles are also found in bohemian bathrooms. These can feature organic or man-made patterns – the aim is to enhance the aesthetic with bolder colours.
CONTEMPORARY STYLE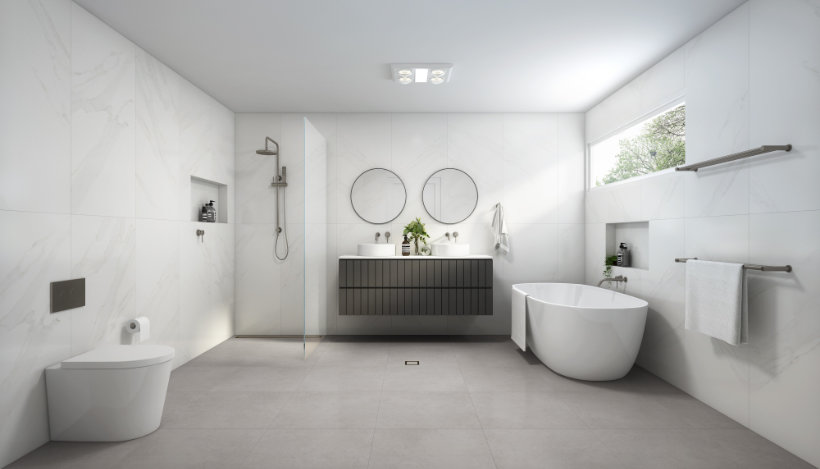 Contemporary bathrooms are at the cutting-edge of design, incorporating forward thinking with clean lines, geometric patterns, flowing curves, and hard angles. Contemporary design is distinct from Modern design and Mid-Century Modern design, which took inspiration from Nordic and Bauhaus styles.
Contemporary design isn't limited to one design philosophy. It can take on many different styles and materials. The emphasis here is on using the latest materials and a simple, functional, and elegant design language. Sleek lines and sharp angles are often favoured – a chrome tap with a large arc paired with a box-style vanity in white would be considered contemporary style. Contemporary style works especially well in smaller spaces.
Contemporary style features materials such as glass, stainless steel and even copper. This space-saving design can be a great part of any bathroom looking to maximize both efficiency and elegance.