Bathroom Renovations Brisbane
Is your Brisbane home in need of a bathroom makeover?
MasterCraft has been creating top quality bathroom renovations for Brisbane homes throughout the past decade.

We have a highly experienced team, who will guide you from the initial point of contact, right through to the remodel's completion. Mastercraft are firm believers in undertaking tasks the correct way, with high attention to detail and thorough workmanship an integral part of our business.

Speak to the Mastercraft team today if you're considering bathroom or ensuite renovation. There's no obligation attached to any enquiry; regardless of whether you're set on a bathroom remodel, or are just dipping your toes in the idea, we would love to hear from you.
Bathroom remodel services in Brisbane
MasterCraft offer a variety of renovation options, from small bathroom upgrades to total bathroom renovations.
The services required for your renovation are often dependent on your home's age, along with the chosen scale of the project. One thing is for sure, the exceptional service Mastercraft are well-known for is constant, regardless of your specifications.
Our service range is great in both size and affordability. Mastercraft's offering includes, but isn't limited to:
Plumbing and electrical
Asbestos testing and safe removal (if required)
Demolition
Dust management
Concrete cutting and concreting
Termite barrier
Carpentry and cabinet making
Insulation
Stone benchtops
Plastering and rendering
Waterproofing
Tiling
Glass shower screens
Painting
Whatever your project requires, however extensive it is, Mastercraft are at your service.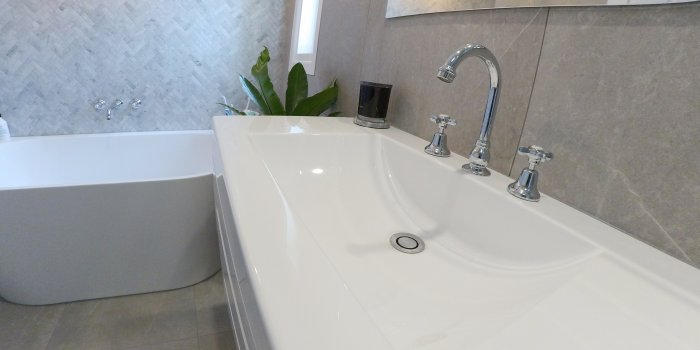 Mastercraft: Brisbane's premier bathroom renovation company

Unlike many of our competitors, MasterCraft are bathroom renovation specialists.
Over the years, we've streamlined the renovation process, enabling us to provide a seamless operation. Our expert methods revolve around customer experience, meaning our clients are guaranteed the utmost satisfaction.
The Mastercraft team is comprised of fully-qualified tradespeople, who ensure projects run smoothly and efficiently.
With regard to your renovation, we have all bases covered, from the supply of a temporary bathroom whilst the upgrade takes place, to meticulous care throughout the process, up until the very last lick of paint.
We're budget-friendly bathroom renovators
If a priority of yours is renovate to a budget, then look no further than Mastercraft. Our substantial network of tradespeople perform tasks with efficiency a top priority. That means that Mastercraft renovations are always completed swiftly in a cost-minimising fashion, without compromising on quality. It's safe to say we can offer you the best value for money bathroom renovations and makeovers in Brisbane.

More information on our renovation options as well as what's included can be found:
We can help with your bathroom renovations issues in Brisbane.